January 24/25
2 days in Hua Hin, with our friends Jessie, James and little Emory!
Due giorni a Hua Hin con i nostri amici Jessie James e Emory il loro bambino di 4 mesi!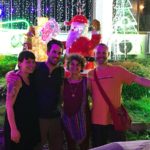 Nice to meet them laugh , eat good food and walk miles to reach the beach!
ci siamo divertiti , tante risate , ottime cene e camminate per raggiungere spiagge inesistenti!
Hua Hine is 3 Hours south of Bangkok, a place like Cancun, lots of mall, traffic and tourists and big resort! Bed and breakfast from 500 bht up
HUa Hine è 3 ore a sud di Bangkok, decisamente non un posto di nostro gusto, pieno di turisti e albergoni centri commerciali etc!
Food is good and company too so we enjoy one day with our friend, and one day touring around the nearby national park on a moped! ( Kaeo Sam Roi Yot National Park entry fee 200 bht) renting moped 150-250 bht gas 30 bhta
A Hua Hine stiamo due giorni , uno lo passiamo con i ns amici, il secondo affittiamo un motorino e c'è ne andiamo al parco nazionale vicino famoso per le sue grotte. Noleggio motorino 200bht, se trovate con cambio manuale risparmiate sul gas. Controllate come funziona il cambio per cambiare spesso diverso da come siamo abituati.
piccolo antico tempio all interno della grotta.
foto nella grotta / 500 scalini sconnessi per raggiungerla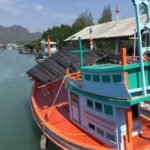 Fun, we visit 2 beautiful caves (Phraya Nakhon Cave, and Koa Cave) and see some beautiful landscapes and monkeys, and fish farms!
Back in town in the evening, we meet for dinner with Jessie and James and then we jump on the night bus that will take us to Ranong (400 bht) to catch the ferry for Ko Phayam tomorrow!
Nel parco visitiamo due grotte, la prima Phraya Nakhon richiede una bella scarpinata, per fortuna la vegetazione ci salva dal sole cocente. In teoria ci sono anche delle barche che offrono per 200bht un servizio taxi per evitare una salita e discesa di un promontorio da dove inizia l'ascensione alla Grotta, siamo in ritardo a causa della necessità di trovare e prenotare il bus per la sera. Quindi manchiamo l'arrivo alle 10 quando la luce che filtra da una apertura nella grotta colpisce il tempio… incontriamomparecchi turisti, ripartiamo per la visita della seconda, Koa Cave, sicuramente meno turistica, non troviamo lì nessuno a parte il guardiano che ci offre delle torce per percorrere la grotta, Dato che è completamente buia e ricca di stalattiti e stalagmiti e piccoli pipistrelli, usiamo le nostre nuove torce, potenti e utilissime! Tornando indietro facciamo una strada differente, purtroppo si è fatto tardi e non riusciamo a fare una passeggiata su passerella sopraelevata su delle marcite. Sulla strada però è un bello spettacolo in mezzo a montagne , scimmie e allevamenti di pesce!
Time to take the night bus, is leaving fro south station at 23.30 and it's supposed to arrive at Ranong 6.30. Interesting experience not bad traveling with some room for legs with reclining chairs. Ticket is not pricey, 460bht . We get in Ranong and take a share taxi to the ferry station.
Options Slow ferry 200 bht 2h leave at 9.00 am from Ranog leave at 14.00 from Ko Phayamthe at and back fast boat 45 min 350 bht leave at 7.30. They leave from different pier so watch out.
Per concludere la giornata abbandoniamo il nostro bed and breakfast (circa 900bht al giorno) e prendiamo il bus notturno, partenza alle 23.30 arrivo alle 6.30 del mattino per il ragionevole prezzo di 400bht. I sedili reclinabili non sono male, aria condizionata dormire non è per tutti ma non tutto considerato non male. Alla stazione collective taxi per la partenza del ferry. Esistono due principali opzioni uno slow ferrry che impiega 2h e costa 200bht e uno veloce che costa 350bht e ci mette 45 minuti. Optiamo per quello lento, quando sale la marea il battello che sedeva nel fango si solleva e possiamo partire, scendendo il canale vediamo tutte le barche dei pescatori cosa non possibile dalla fast boat che parte da un altro molo. Una solita con personale che si tuffa per pulire la presa di acqua che serve per raffreddare il motore ci da un diversivo. Altra sosta per trasbordare uova e passeggeri diretti ad un altra isola ci permette di capire perché questo servizio è chiamato slow boat…barca lenta
We arrive a Ko Phayan early afternoon, under a killing sun, we decide to rent a moped to reach our accommodation!
Arriviamo sull'isola di Ko Phayam sotto un sole cocente, decidiamo di noleggiare un motorino (150bht) per raggiungere il bungalow. Un mototaxi costa 80-100 quindi il costo del noleggio e presto ammortizzato. Così con il mezzo potremo esplorare le varie spiaggie.
Alternative would be moto taxi…but e will want to explore so to get a vehicle for us is the best. Our bungalow is great, with bathroom, fan and mosquito net! What else should we desire?
The bar restaurant is right on the beach and they also have internet ….bungalow is only only $ 20 a day …. we attempt a night walk on the long beach and it's nice to see the quite night life around here! WoW relax is waiting for us! Going around we see lots of stinky rubber tree..
Il bungalow prenotato con booking.com e sulla spiaggia, non in prima fila ma non importa, Wi-Fi , bagno in camera e zanzariera, perfetto! Prezzi da 400 a 1500 bht a notte. Siamo sulla long beach, il posto ideale per vedere il sole spegnersi nel mare. facciamo un giro e di sera ristorantini si illumina con differenti e interessanti istallazioni luminose ( bottiglie di plastica, lampadari fatti con legno portati dal mare , boe etc. Il mattino partiamo in escursione e capiamo da dove proviene uno strano e non piacevole odore… sono gli alberi della gomma ! Su ogni pianta una serie di solchi convoglia il siero in piccoli contenitori.
Bed at 7:30 pm we are exhausted by the trip and the heat!
a letto presto siamo stanchissimi